What is a Motivational Speaker? What is Motivational Magic? How often have you sent your employees to a seminar, only to have them come back claiming it was a waste of time and they got nothing out of it? What would it mean for you to see immediate results and a high return on your investment?
Motivational Magic sets the bar for how all seminars and training events should be conducted. We create a highly charged positive environment, where walls of resistance and lack of interest are immediately dissolved within the first ten minutes of the program. We reach deep inside of our audience members, triggering ashtonishment, amazement and intrigue. We do this by embedding powerful stage magic and illusions with our programs. Our stage magic serves both as attention getters, and as teaching tools.
After seizing their attention, we then present high impact content researched from among the best training companies in the seminar industry. The result for you is a powerful seminar event, that is entertaining and highly educational. You will see an immediate change in your people with a higher degree of commitment to excellence. A take charge attitude. A higher level of confidence to embrace adversities and overcome obstacles.
Motivational Magic is a whole new paradigm and mindset for peak performance. Motivational Magic truly is the Final Frontier.
Motivational Magic provides you with the skills and techniques that liberates you from the barriers holding you back. Just as Harry Houdini once walked through brick walls during his performances, so will you overcome the barriers that are preventing you from living life to the fullest.
We believe that the three main strongholds that stop you from being all that you can be are: (1) discouragement; (2) fear; and (3) inability to produce a high level of consistent daily student or employee motivation. By providing you with the tools to break through these barriers, we show you how to enjoy a permanent sense of freedom and liberation, to excel to the heights of their fullest potential.
We show you the secrets for breaking through the blockages that prevent you from performing at your fullest, and enjoying life more abundantly. Our primary mission is to provide the tools that get your teams from where they are now to where they yearn to be.
We firmly believe and teach that assisting and serving others is a prominent key to rapid personal growth. We provide insights and skills that teach the art form of effective mentoring. Both to be a mentor, and to find a mentor. Our programs are suited for events such as education and leadership workshops; special events, career training seminars and sales training.
During our program, "You Can Do the Impossible.", I perform several spectacular and clearly impossible stage illusions and magical effects. These are used as highly effective teaching tools to drive home the message that we can all overcome self-imposed blocks and achieve peak performance.
What does all this add up to? An unbelievably motivational and unforgettable seminar, executive retreat, keynote presentation or special event.
Please visit and enjoy our online Motivational Magic Resource Database. It is one of the largest inspirational resources of its kind in the world. See the links below.
Call me today to discuss how we can bring Motivational Magic to your organization. This is a great event to give your people a strong jump start.
You can reach me at (610) 910-6205.
Rick Saldan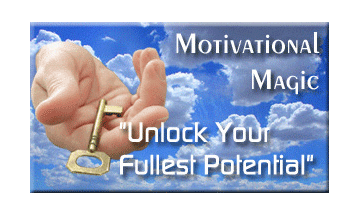 When you hire Rick Saldan, you hire a motivational speaker that will rivet your audience to their chairs and create lasting change in their lives. Rick Saldan will capture their attention, inspire them, and motivate them into action.
Difference #1 - A Motivational Speaker With First Person Stories
Rick Saldan is a former Marine with stories about drive, determination and mental toughness that really inspire his audiences to tap into their own unlimited personal power.
Difference #2 - Unbelievable Adventures
He is a motivational speaker with almost 200 jumps from altitudes as high as 15,000 feet, and truly a speaker like no other. He not only talks the talk, but his life shines through as he walks the walk and inspires your people with his inspirational stories. From skydiving, to scuba diving with sharks, to funny baseball analogies.
Difference #3 - Stage Magic as a Powerful Tool
Not only a highly skilled and experienced speaker, Rick is also a master magician and he skillfully uses professional stage magic as a teaching tool to help audiences experience first hand, how they can truly create their own "real life magic".
Difference #4 - Ten Years Experience as a Seminar Leader
With 10 years experience as a seminar leader, corporate trainer, and technology instructor, he has taught a large variety of programs to include team building, sales training, peak performance and leadership development. Rick has a high energy and enthusiastic personality that belies the real strength and power of his message. A master among keynote speakers.
Difference #5 - Consistently High Ratings
Rick Saldan's seminars are uniformly a big hit in large corporate settings and on college campuses, with consistently superior evaluations averaging 9.3 on a 10 point scale.
Difference #6 - Heart-Felt Messages and Strong Impact
You and your audience will be spellbound while listening to his stories in overcoming his fear of heights by taking skydiving lessons.
Difference #7 - Creates Breakthrough Experiences
You can face those setbacks, those doubts, and push through to achieve your deepest desires, realize your most sought after goals, and use your vision for a new future that taps into your hidden potential.
Difference #8 - Astounding Victories That Trigger Your People
You will feel that same sense of triumph as Rick shows video footage of conquests in extreme skydiving. He shares other exciting experiences driving armored tanks, shooting artillery cannons, flying in a glider over the Nevada desert, scuba diving with sharks, and bungee jumping.
Difference #9 - Freeing People From Discouragement & Fear
Rick's love for people and passion for helping others comes through very strongly in his powerful messages.
Volunteering for five years deep within prison walls as a lay counselor to inmates looking to turn their lives around. His zest for life is contagious and energizing, while his sensitivity and insights will touch your heart deeply.
Make an Impact Today
Rick's areas of expertise include topics on confidence, self esteem, helping others, freedom from fear, and achieving personal breakthroughs.
Rick provides his strategies for facing fear and overcoming internal obstacles and setbacks. The high impact message is that with perseverance, drive and vision, you can achieve the impossible.
Call today to book your next keynote, seminar or special events program.
Dial Tel. (610) 628-9636
Email: RickSaldan@MotivationalMagic.com